COVID-19 UPDATE
FROM CUSTOM CREATIONS BY HARVEST HILL
Due to the recent updates and recommendations regarding the outbreak of COVID-19, Custom Creations by harvest hill is taking the information into careful consideration and will proceed as follows:
*Custom Creations by harvest hill is open. Our temporary lobby hours are Tuesday through Friday 9am to 3pm. If you are unable to come in during that time, please call the shop and make an appointment to meet with Tina.
*In order to limit contact, we will be using the following guidelines:
-to place orders, request quotes for projects or request artwork proofs please contact us by:
*Telephone 660-227-6073
*Email: shirtshop@customcreationsbyharvesthill.com
*Facebook Messenger within our Facebook Page –Custom Creations by harvest hill
Visit us online at www.customcreationsbyharvesthill for in-store specials and fun items as we move through these uncertain times.
We offer free shipment of orders over $200.00 (not including the sales tax). Those orders will ship out as normal. Shipment is also available for orders under $200.00.
We appreciate all of our customers and it is our wish to keep everyone as safe as possible.
Sincerely,
-The Staff of Custom Creations by harvest hill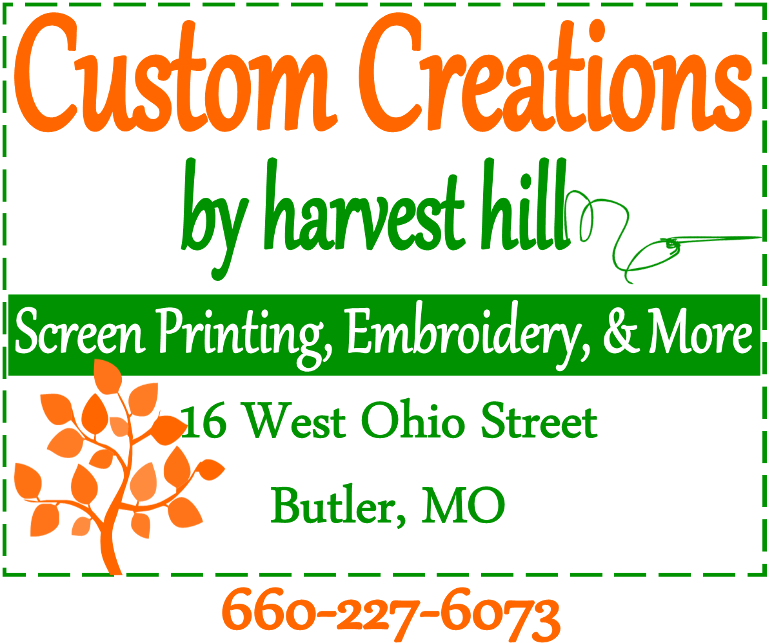 STILL GOING STRONG ON THE NORTH SIDE OF THE SQUARE!
We are located at 16 West Ohio in Butler, Missouri
for you to order, pick up and browse.
Shop Hours:
Monday - Friday 8:30am - 4:30pm


Closed Saturday and Sunday
**All Major Credit Cards Accepted**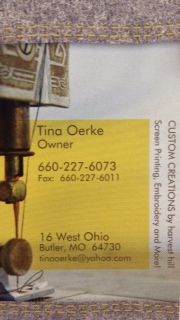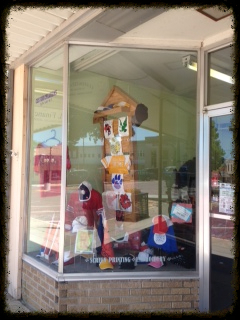 About Us
We have items for every occasion, any taste and any budget.
We are here to help you find what you are looking for!
Offering t-shirts, jackets, hoodies, hats...
whatever you need, we can get it for you!
FREE DELIVERY TO AREA SCHOOLS!